Ways to Treat Yourself without Food or Money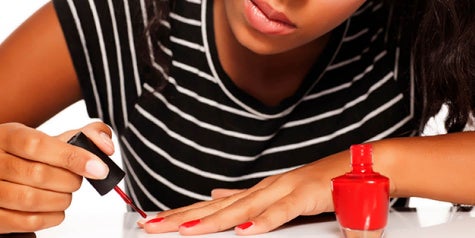 When people want to reward themselves for reaching a goal, they often turn to food, especially unhealthy treats. They may also spend money unnecessarily on things they don't really need. Here are 11 options you can consider that do not involve food and cost little or no money.
Give yourself a manicure. Freshly painted nails can brighten your hands and your day. Keep a few colors of nail polish at home so you can style your fingers how you want them during any impromptu moment.
Take a nap. If possible, enjoy a rest. Schedule time to nap. Help make it more special by putting on a fresh pillow case and clean sheets. Consider spraying a fragrance or essential oil that helps relax you.
Read a book. Escape into another world by reading a new book or re-reading one of your favorites. Visit a local library for free options.
Have a movie marathon. Set time aside to watch your favorite films or see new ones you haven't had a chance to view. There could be a new documentary or series that interests you too. Search from your current subscription options so it does not cost anything additional.
Listen to favorite music. Play those old CDs you may still have lying around or create a playlist of your favorite tunes. Music can really lift your mood. Dance around for a bit if you feel moved to do so.
Play with pets. If you have pets, spend time with them. Take them for a walk or snuggle with those that enjoy the contact. You could also visit a pet shelter or pet store to cuddle with animals that may need a good home.
Visit a free museum or local attraction. Spend a few minutes researching local area museums and attractions that are free to visit. Discover historic places in your region that interest you. Expand your mind by getting lost inside an exhibit or interesting place.
Listen to a podcast. What people or hobbies interest you? There's probably a podcast by your favorite celebrity, musician or artist on topics that appeal to you. Look up several that grab your attention. Then listen to learn more.
Go for a walk, bike ride or drive. Spend 30 minutes going for a leisure walk, bike ride or drive. If you have time, do all three. Don't follow the usual route when you may be tempted to run an errand or get a task done. Instead, pick a trail you've wanted to see or go along the beach to take in the beautiful scenery.
Watch a video tutorial to learn something new. Have you wanted to learn how to braid hair, make jewelry, train for a 5K, organize your closet or teach your dog commands? Whatever subject interests you, you'll find so many helpful do-it-yourself videos and tutorials online. Learn something new and put that skill into action.
Sit and people watch. Enjoy down time observing others and blending into surroundings. You can watch people in a busy place like a coffee shop, airport, farmers market or a park. With a friend, make up stories about the folks you see – where they may be going and what they may be doing later. Use your imagination to create a funny story.
Try one or all of these ways to treat yourself rather than indulging in food or spending money. Reward yourself with things that are healthy and good for your mental well-being.

Categories:
---
Related Articles: