Baptist Medical Group - Urology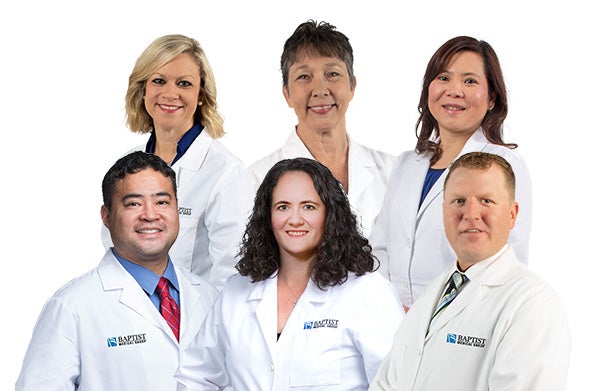 New Patient Paperwork
DEPARTMENT OF BAPTIST HOSPITAL
At Baptist Medical Group – Urology, you can count on receiving quality, personalized medical care for all your urologic needs in our state-of-the-art facilities. Our board-certified urologists are committed to providing you with comprehensive treatment for urological disorders using the most advanced technology available. We have convenient locations throughout Northwest Florida and are known for our expertise in minimally invasive procedures.
Medical Services
Baptist Medical Group – Urology provides care for all general urology conditions including robotics, laparoscopy, and other minimally invasive procedures; kidney stones; male and female incontinence; pelvic and bladder prolapse; erectile dysfunction, prostate cancer, and disease, urologic cancer; general pediatric urology and more.
Our Physicians
Our physicians are dedicated and caring physicians that can be counted on to get to know their patients and work with them individually to develop a care plan that best meets their condition and their needs.
We invite you to learn more about our physicians by visiting their personal profile pages.
Appointment Information
We're currently accepting new patients in multiple, convenient office locations. It's simple, secure, and easy to request an appointment online. Click here to begin. You can also feel free to contact our office 850.437.8711 to schedule an appointment over the phone.
As a convenience to your primary care physician, they may contact our office directly to schedule an appointment, fax a referral, or send the referral through Order Facilitator. We are listed as Order Facilitator at Baptist Medical Group—Urology. Our fax number is 850.437.8719.
What to Bring
Please bring your completed new-patient paperwork, a valid photo ID, your current insurance card, and any current prescriptions or medicine you're taking to your appointment. You're always welcome to bring a significant other, family member or caregiver with you to your appointment.
Arrival
To help you have the best possible experience at your appointment, we ask that you please arrive 15 minutes prior to your appointment time.
Missed Appointment
To ensure we're able to continue to provide the personal care you expect from a Baptist Medical Group physician, it's important that you let us know immediately upon realizing you may be unable to keep your appointment. We request you notify the office with at least 24 hours' notice whenever you are unable to keep your appointment.
Financial Information
We're currently accepting most insurance companies. Please contact your insurance carrier/payor to verify coverage. Your insurance can verify if prior authorization must be obtained from your primary care physician prior to scheduling.
It's our policy that co-payments, co-insurance, deductibles, and any outstanding balances are due at the time of service. This means that you will be expected to pay for those items (as defined by your insurance policy) while at our office for your scheduled appointment. For your convenience, we accept payments in cash, check or credit card.
It's important to note that you are financially responsible for the care you receive, even if your insurance does not pay. If you have questions, we encourage you to contact our office and our staff will do everything we can to serve you.
Your Primary Care Physician
We value your relationship with your primary care physician and want to ensure that he or she stays actively involved and informed of every step of your health-care journey. We'll be sure to communicate with your primary care physician and keep him or her as the leader of your health-care team.
If you do not have a primary care physician, we will gladly help you find one that best meets your individual needs. We also encourage you to see if a Baptist Medical Group internal medicine or family medicine practice location is near you. To begin your search, click here.
Community Involvement
Our physicians and the staff of Baptist Medical Group – Urology are very involved in Pensacola and surrounding communities. We enjoy providing special free educational seminars and screenings.