Recipe: Kid-Friendly Thai Chicken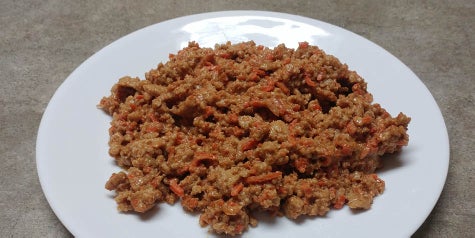 - 7/24/2019
If you want to introduce your kids and little ones to different flavors, this easy, peanut butter-flavored chicken is inspired by Thai cuisine, and it's a great way to offer a healthy variety on children's plates. Serve over rice or in a wrap.

Ingredients
1 pound ground chicken
1/2 cup of shredded carrots
6 tablespoons of creamy, all natural peanut butter (or other nut butter)
4 tablespoons of soy sauce - low sodium type (or Coconut Aminos)
1 tablespoon of apple cider vinegar
½ tablespoon of sesame oil

Directions
Heat a large skillet on the stove. Coat with oil of choice (olive oil, coconut oil). Toss in your ground chicken and the shredded carrots. Cook for about 7 minutes or until meat is brown. Remove from heat.

In a small, microwaveable-safe bowl, place your peanut butter. Heat on high for about 15 to 20 seconds. Remove from microwave. Scoop the peanut butter into a larger bowl. Pour in the soy sauce, apple cider vinegar and sesame oil. Whisk until smooth.

Scoop the peanut-sauce mixture over the cooked chicken and carrots. Coat them until all is covered. Use a large spoon or spatula. Serve the way your family wants. Ideas are below.

Ways to serve
-Serve chicken over or mixed with prepared, hot rice (or cauliflower rice). This makes a delicious rice bowl.

-Eat as a wrap: Warm several whole wheat flour tortillas in the microwave for about 20 seconds. Then scoop out a portion of the Thai chicken into the center of the tortilla (about 1/3 cup in size). Then tuck and fold the edges and sides around so that no chicken mixture will be visible or fall out. Add a healthy vegetable on the side like steamed broccoli.

Serves four to five people.
Categories:
---
Related Articles: