Faith Health Network Reaches People in New Ways Amid Pandemic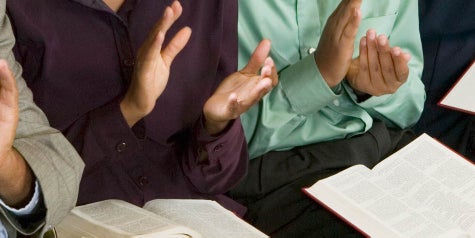 - 5/10/2021
Church offers a sense of community for many people. As the pandemic halted gatherings, that sense of bonding was at first lost for many congregations in Northwest Florida. Thankfully, Baptist Health Care's Faith Health Network (FHN) stepped up to continue serving and adapting needs for churches and their members.
The Faith Health Network works with church congregations to help them be more proactive and educated about health. Since 2017, FHN has provided educational classes on topics such as heart health, stroke awareness and even financial stewardship. It also assists members in choosing the right clinic or physician for their needs and provides a network of aftercare support following a stay in the hospital.
However, like many organizations, the Faith Health Network was forced to adapt to changes brought about by COVID-19 in 2020. The team, consisting of four women with big hearts for the Pensacola community (Alicia, Indrea, Joy and Kelly), refused to halt education efforts and actually increased the number of services offered to members, all while following CDC guidelines and keeping their members safe. They understood that older adults were becoming increasingly isolated during the COVID-19 pandemic as they were challenged by the even greater reliance on technology. As a result, these older adults were often neglecting treating health conditions.
"We understood that we could no longer share health education, smiles, hugs or even meals as before," said Joy Sharp, director of the Faith Health Network. "We had to be innovative while practicing CDC guidelines as it related to masking, limiting gatherings and practicing social distancing but still felt the need to live out our mission by ensuring the seniors did not feel left out or alone."
The team began a contactless approach to education and outreach simply by placing educational materials, greeting cards, masks and puzzle books on their members' porches, as a way of saying, "We are still here for you, ready and willing to assist as much as we can."
The Faith Health Network remained committed to their members. During the pandemic, the team:
Assisted pastors in caring for the sick via online methods or by phone
Trained 60 pastors on how to protect the vulnerable and remember the lonely
Educated 10 smaller congregations on ways to engage members through virtual visits
Distributed 2,500 bulletin inserts focused on COVID-19
Distributed 100 reopening guides to churches
Conducted 30 church reopening surveys
Provided 5,600 resource guides to churches
Distributed 31,765 masks to 66 congregations
Provided 36 congregation reopening kits consisting of masks, thermometers, hand sanitizing stations and a reopening survey
Partnered with the NAACP to provide 2,500 care packages for Escambia County Area Transit to be used in its Paratransit Services Program. Care packages included masks, hand sanitizers and COVID-19 safety information.
The Faith Health Network is steadfast in caring for the Pensacola community and actively works to improve the health and lives of its residents. There is no cost to join the Faith Health Network. For more information, visit ebaptisthealthcare.org/FaithHealthNetwork.